Daily Maintenance
Module 1 - Daily Computer Preventive Maintenance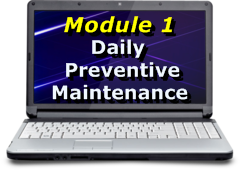 Daily Maintenance mostly involves "Software Maintenance" such as cleaning your Temp Files and some "Security Checks" by making a few observations about Windows Security Updates, Anti-Virus and Anti-Spyware Definition Updates, etc.
These daily tasks only take a couple minutes . I'll show you how to do the cleaning tasks with a Free Cleaner.
Table of Contents
How to Clean Temp Files with CCleaner
CCleaner is a free utility for removing unused files and registry entries from your computer. On computers that haven't had a good disk cleanup in a while, CCleaner can actually allow Windows to run a bit faster by freeing up valuable hard disk space and removing orphaned registry entries.
It also cleans traces of your online activities such as Cookies, Internet History and Temporary Internet Files for several popular Internet Browers such as Internet Explorer, Firefox and Chrome. CCleaner has a small footprint and installs very quickly. When used regularly, it completes scans very quickly.
Clean Temp Files with CCleaner
Check Security Program Update Status
Most all antivirus programs use virus signature analysis to build a database that contains profile information belonging to known viruses, worms, trojans or other malicious code. As the list of known threats grows, new virus definitions (or signatures) are added to the antivirus databases. Some antivirus researchers add approximately 200 new records to the database every day. The ability of your antivirus program to detect these new threats depends on the timely installation of virus definition updates on a regular basis. Some updates even include enhancements to the antivirus engine software itself.
You should make it a habit to glance at your security software update status daily, to ensure your security is enabled and up-to-date.
Check Security Program Update Status
Do An Incremental Backup
File Email Messages
Keeping your inbox orderly on a daily basis will make your life a lot easier.  Move or delete any unnecessary messages.  If you need to follow-up on a message, most mail programs have some sort of flagging process to mark those messages; otherwise, create a "Followup" folder and store those message in that folder.   Some mail programs will allow archiving of old email entries.
Reboot When Programs Crash
Failed applications can cause other programs to falter. Restart your system after every crash or program hang-up to clear it out. This clears your memory cache and will allow your other programs to operate more efficiently also.