Weekly Preventive Maintenance
Module 2 - Run Data Backups
No matter how careful you are, anybody can accidentally delete an important file or folder. Or worse yet, you might lose access to your data because of a corrupted Windows Operating system, hard drive errors, or malware such as the dreaded CryptoLocker virus. So it makes sense to back up your system regularly to protect yourself from losing any data, no matter what the reason.
While I suggest you back up your important files at least once a week, its really more of an as-needed task. If you create or change your important files daily, then you should backup daily. And if they change weekly, backup weekly … and so on.
You may even want to maintain "two" backup copies: one at home or work, and the other in a different geographical location. That way, if you experience a fire, flood or theft in one location,  your data should still be available at the other location. There are many mediums to backup your data to, such as Flash Drives, Portable and External USB Hard Drives, CD/DVDs, Separate Data Partitions, Network Attached Storage, Online Backup, and Hard Copy printouts.
As a rule of thumb, I suggest you keep the majority of your "original" data stored in the appropriate folders in your User account, such as My Documents, My Pictures, My Music, and My Videos etc. I also suggest not storing large amounts of data on the Desktop or in the root of the C: Drive. If you need direct access to certain data from the Desktop, just make a shortcut to it.
Table of Contents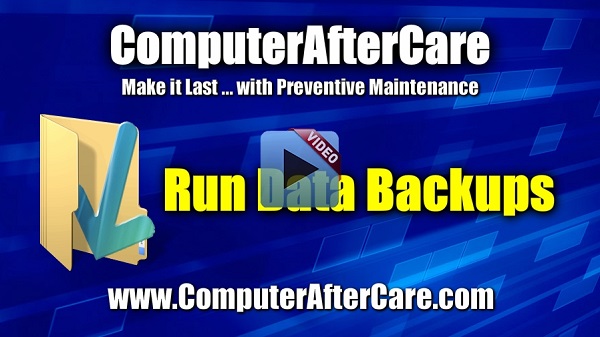 For best results, view the VIDEO above in "Full Screen".
Flash Drives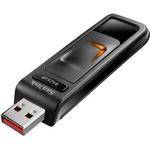 I love Flash Drives so much that you can frequently spot me wearing one around my neck on a lanyard. They are great for keeping the data you need on the go. Their down side is that they are slower and don't have the storage capacity of their USB Hard Drive counterparts. They are also very small, about the size of your thumb, making them easy to lose, leaving your data exposed to whoever might find it. Some Flash Drives come with built-in encryption to protect your data from unauthorized access. They can also be corrupted if ejected improperly and have a finite life span so they won't last forever.
Portable & External USB Hard Drives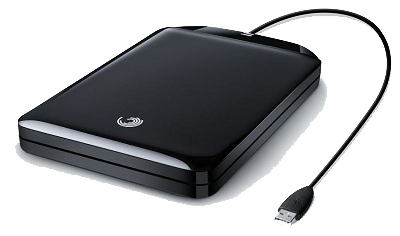 These storage devices come in 2.5" and 3.5" sizes (referring to the size of the hard drive inside). Both Portable and External USB Hard Drives operate in the same manner as a Flash Drive and primarily connect to the computer via USB2.0, USB 3.0 or eSata connections. The difference between Portable and External USB Hard Drives are that the External versions are primarily 3.5″ and require an external power connection, whereas the Portable versions are powered through the same USB cable the data flows through. Most people buy the Portable versions these days.
People that use External USB Hard Drives tend to leave them connected 24/7 since they require external power. If you must use an External version that you will probably leave connected to your computer 24/7, I suggest you get one that has a built-in fan for better cooling.
After connecting a USB Hard Drive, the OS recognizes it and assigns it a drive letter that is accessible through Windows Explorer. You can drag & drop files to the drive in the same manner you use to copy files to your Documents folder.
Some USB Hard Drives even come with a One Touch Backup (OTB) feature with a button that can initiate either an entire system backup or selective backup of your desired files and folders. Some USB Hard Drives also offer an encryption feature to prevent unauthorized access to your data.
These drives come with large capacities these days, many even larger than the internal drive that came with your computer. A 1 TB drive is very common now. Just know that if your USB Hard Drive is the only place you have a file stored, it is NOT a backup. Also, these are electro-mechanical devices and can be easily damaged if dropped, especially when energized. I suggest buying a protective case to care for your drive. And just as with Flash Drives, you have to eject them properly before disconnecting them from your computer or risk data loss.
CD/DVD/Blu-Ray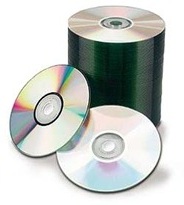 In the old days … about 15 years ago, floppy disks were the de-facto standard for backing up data. And then Writable CDs became much more affordable and later-on, DVDs and Blu-ray. These disks aren't used so much for data backup as they are used for making copies of other disks, and for creating your own audio and video disks. I suggest them for archiving photos, music and video which can then be put in the vault, while leaving working copies on your computer.
Creating backups on CD/DVD/Blu-ray media may be a bit time-consuming, but I would make the point that they are more reliable than backups on USB Hard Drives. If you finalize a backup on CD/DVD/Blu-ray media and put them in your vault – so to speak, they never need to be used except in an emergency, which means they should stay in pristine condition if you store them properly.
Data Partition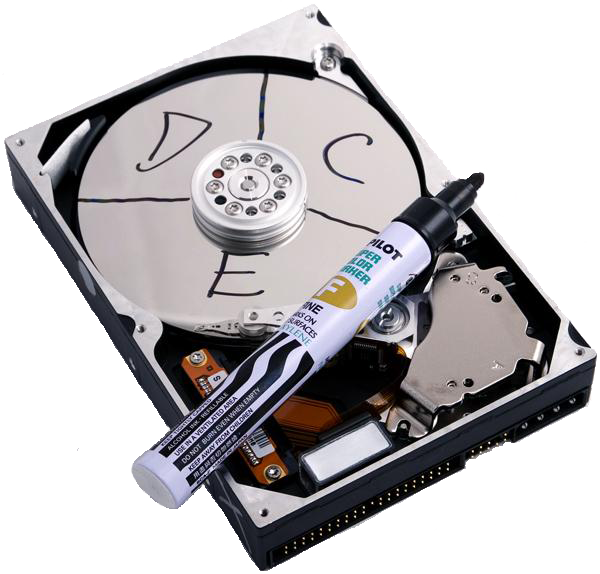 On computers with only one physical hard drive, a Data Partition is a virtual partition with its very own drive letter … like a D: or E: located alongside the partition for the Windows Operating System, which is usually the C: drive. The partition can be called anything you want, but in this case we are calling it a Data Partition. Most brand name computers do not come with a Data Partition. If you don't have a Data Partition and want to create one without disturbing your current Operating System, you will need to use some 3rd party partition software to create one out of the free space on your main partition.
The Data Partition can also be on a 2nd physical hard drive, also known as a Slave Drive. Most Desktop PCs and some Laptops have an extra slot to install another hard drive.
But whether the Data Partition is a virtual partition on the same physical hard drive or on a 2nd Slave Drive, they all act like separate drives to Windows Explorer.
Many brand name computers come with a 2nd partition for the System Recovery Software, also known as the Recovery Partition. Recovery Partitions are small in size and are sometimes hidden or protected and shouldn't be used for data backups. If you somehow end up using this partition for backups, you will eventually see see a low disk space message.
By default, Windows stores your data in different User locations depending on which Operating System you use:
WinXP: C:\Documents and Settings\"User Profile Name"\~~~
WinVista/Win7/Win8: C:\Users\"User Profile Name"\~~~
If you have a 2nd partition large enough for your data, you can easily retarget the location for your User Profile data folders to another partition. This technique helps keep the used space on the Windows Operating System partition as small as possible which makes Windows easier to image. A Windows image is another important type of backup that will help you to be more self-sufficient.
Keeping your data separate from your Windows Operating System also reduces the chance of data loss. If done with separate hard drives instead of virtual partitions on one hard drive, it also gives you some redundancy that reduces the risk of total PC failure. For example, if your C: drive fails (Windows Operating System), you can remove your Data Drive and connect it to another PC to access your data. But if your Data Drive fails, you should still have a working PC. Hopefully you have been maintaining another data backup using one of the other methods such as a Portable Hard Drive.
Network Attached Storage (NAS)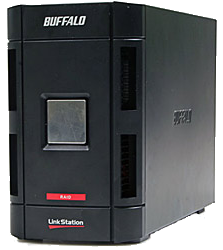 In its simplest form, Network Attached Storage (NAS) is an External Hard Drive with a WiFi or Ethernet connection and supporting software. Technically, you could just use a general purpose computer dedicated for file storage and share it out to the network, but NAS would be much more cost effective as a basic unit costs just a bit more than an External Hard Drive.
But NAS is more of a stripped down computer operating as a File Server that is specialized for storing and serving files. They also don't need a keyboard and a display. But because they are network accessible, they can be used as a central storage location for an entire home or office network of computers. But being network accessible makes it prone to security issues, so if you choose to use NAS, use one that has built-in security protocols and setup your router for optimal protection.
Some NAS units are very sophisticated and have extremely large storage capacities and can even be configured for 24/7 remote access.
On-Line Backup (Cloud Storage)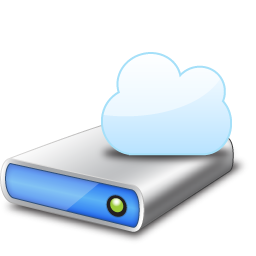 Popular Cloud Services such as * Carbonite and Mozy offer some very affordable back-up solutions. They are basically set-and-forget programs that automatically upload your selected data to their "secure cloud servers" when connected to the internet. They also provide you access to your data from any internet connected computer, anywhere in the world. One word of warning though, if you have some sensitive data you don't want to take chances with "just in case" their cloud servers get hacked, you may want to consider using further password protection or encryption or don't store it on cloud servers at all.
Dropbox: Another very popular online service that has backup capability is called *"Dropbox". I've been using it for years and you can get started with 2GB of space for free and can earn up to 16GB through referrals. Of course you can pay for more space. When you install the free Dropbox software, it prompts you to create a folder which will be your "Dropbox". Everything you put in the Dropbox will automatically be uploaded to your account on a secure server which is amazingly accessible via PCs, Macs, iPhone, iPad, Android, and BlackBerry devices. It's also very easy to share your mobile media to your Dropbox. I have Dropbox sync'd across all my computers so I have automatic access to the latest version of all my files I put in my Dropbox.
While all of the above solutions offer many ways to back up your data, the best way to minimize data loss is to use a combination of multiple back-up solutions and security precautions. For example, it would be a good idea to store important sensitive data on your flash drive and encrypting it using True Crypt to protect your data in case your flash drive is lost or stolen. You should also be saving duplicate file copies on a Portable Hard Drive, NAS or Online Storage Service. Another program called Folder Lock can provide you with a measure of security from prying eyes by locking and hiding any folder you want.
Print Your Data to Hard Copy

If you just wanted to keep a backup of your email addresses, you could print them out and store in a safe place.
There is always the chance that a USB or external Hard Drive may malfunction and loose your data.
Automatic Backups
Since there are so many 3rd party software backup solutions available, I only want to cover a brief description of the free Automatic Backup solution included with Windows.
Configuring Automatic Backups (Windows 8)
Windows 8 includes a built-in File History utility for automatically backing up and restoring data. But before the backup process can begin, ensure your backup media is connected and ready. This will usually be another hard drive partition or a USB Hard Drive.
To begin: Move the mouse to the upper right-hand corner of your Display to access the Charm Bar > Select "Settings" > Select "Control Panel" > Select "Save backup copies of your files with File History"
Click the option to "Select Drive"
Choose the drive you'd like to save Data to and ensure that Files History is "Turned on".
Go to "File History" > Select "Advanced Settings"
To set automatic backups, under "Save copies of files" > Select the frequency you want files to be saved to your drive > Click "Save Changes"
Configuring Automatic Backups (Windows 7)
Windows 7 also includes a built-in Backup and Restore utility for backing up and restoring data. Before you begin the backup process, ensure your backup media is connected and already formatted. This will usually be another hard drive partition or a USB Hard Drive.
To begin: Click "Start" > "Control Panel" > "Backup and Restore" > "Set up backup"
Windows will search for any compatible local drives to store your new backup. Your external hard drive should be detected as the "Recommended" destination. Select the "External Hard Drive" and Select "Next".
Select "Let Windows Choose (Recommended)". This option automatically backs up specific types of files across your computer (using Windows 7's libraries feature for automatically backing up files like music, pictures, movies, regardless of location) as well as other user folders entirely. Then select "Next".
Select "Let me choose" if you have files stored in non-standard locations.
Review selected settings and Select "Change schedule".
Select "Run backup on a schedule" > "How often" and "What time" are determined by user's preference. > Select "OK"
Select "Save settings and run backup"
The Backup and Restore utility will now display the backup progress and status in the next window.
If you need to restore specific files or an entire user's backups, it can be done with options listed under "Restore"
Microsoft Resources for Back Ups
Microsoft Backup for Windows 7: http://windows.microsoft.com/en-US/windows7/Back-up-your-files
Microsoft Backup for Windows Vista: http://windows.microsoft.com/en-US/windows-vista/Back-up-your-files
Microsoft Backup for Windows XP: http://support.microsoft.com/kb/320820
3rd Party: http://tips4pc.com/articles/computer%20maintenance/computer_maintenance.htm