Monthly Computer Preventive Maintenance
Module 3 - Monthly Computer Preventive Maintenance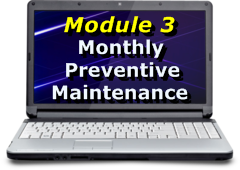 Install misc program updates such as Adobe Reader, Flash Player, Shockwave and Java. Check Windows Event Viewer for errors. Check Hard Drive for File System errors. Perform Disk Cleanup. Clean Registry. Check Internet Speed.
Some of these tasks can even be automated.
Table of Contents
Update Adobe Reader
Adobe Reader is free software that lets you open, view, search, digitally sign, verify, and print PDF files. Adobe Reader is widely used as a way to present information with a fixed layout similar to a paper publication.
Since Adobe Reader includes support for JavaScript, it is vulnerable to malicious code attacks, which is why you need to ensure you are always running the latest version.
Update Adobe Flash Player
Basically, Adobe Flash Player is a free internet browser add-on for viewing rich content on the internet such as animations and videos.
Update Adobe Shockwave Player
Adobe Shockwave Player is a multimedia platform used to add animation and interactivity to web pages. It allows Adobe Director applications to be published on the Internet and viewed in a web browser on any computer which has the Shockwave plug-in installed. Shockwave Player is free, easy to get, and available to everyone on the web.
Update Java
Java is a programming language and computing platform that powers state-of-the-art programs including utilities, games, and business applications. Java runs on more than 850 million personal computers worldwide, and on billions of devices worldwide, including mobile and TV devices.
There are lots of applications and websites that won't work unless you have Java installed, and more are created every day. Java is usually fast, secure, and reliable if kept updates.
Check Event Viewer for Windows Errors
Event Viewer is a built-in Windows tool that displays detailed information about significant events (for example, programs that don't start as expected or updates that are downloaded automatically) on your computer.
Event logs are special files that record significant events on your computer, such as when a user logs on to the computer or when a program encounters an error. Whenever these types of events occur, Windows records the event in an event log that you can read by using Event Viewer. Advanced users might find the details in event logs helpful when troubleshooting problems with Windows and other programs.
Check Event Viewer for Windows Errors
Check Hard Drive for File System Errors
Chkdsk analyzes the physical structure of your hard disk to make ensure it is healthy. It can repair problems related to bad sectors, lost clusters, and directory errors. These types of errors can be caused by System crashes or freezes, power glitches, and bad shutdowns from incorrectly turning off a computer.
Also, physically bumping a computer can cause the head that reads the disk to hit the surface and damage sectors. Once this type of error occurs, it can end up creating more errors, so a regularly scheduled disk check is part of good system maintenance.
Check Hard Drive for File System Errors
Run Disk Cleanup
If you want to reduce the number of unnecessary files on your hard disk to free up disk space and help your computer run faster, use Disk Cleanup. It removes temporary files, empties the Recycle Bin, and removes a variety of system files and other items that you no longer need.
Clean the Windows Registry
CCleaner can actually allow Windows to run a bit faster by freeing up valuable hard disk space and removing orphaned registry entries.
The Windows registry keeps growing while you are using your computer. Its size will never shrink by itself. As the time goes, you will find your computer running more and more slowly. Clustered Windows registry is one of the most important factors that drag down your system speed. Therefore, regularly cleaning your registry is a great way to maintain your computer.
Check Internet Speed
There are many Speedtest websites to choose from, but I'll be demonstrating how to use the very popular "Speedtest.net" website. Just be sure you have Adobe Flash Player and Java installed, as many Speedtest websites require these browser add-ons to run the speed and ping tests.
Whether you are just curious about your internet speed for a baseline test, or you are troubleshooting a slow internet connection, Speedtest.net is the best place to start. It can test ping (latency), download speed and upload speed.
Secunia PSI
Patching insecure programs helps safeguard your data and PC against cyber-criminals. Secunia PSI is a security scanner which identifies programs that are insecure and need updates. It even automates the updating of many of these programs, making it a lot easier to maintain a secure PC.