Program Updates
Module 3 - Update Adobe Reader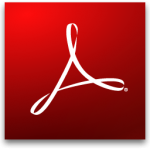 Adobe Reader is free software that lets you open, view, search, digitally sign, verify, and print PDF files. Adobe Reader is widely used as a way to present information with a fixed layout similar to a paper publication. Since Adobe Reader includes support for JavaScript, it is vulnerable to malicious code attacks, which is why you need to ensure you are always running the latest version.
Adobe Reader runs on Windows XP thru Windows 8 and Server 2008 for both 32 and 64 bit versions, and works with Internet Explorer, Firefox and Chrome.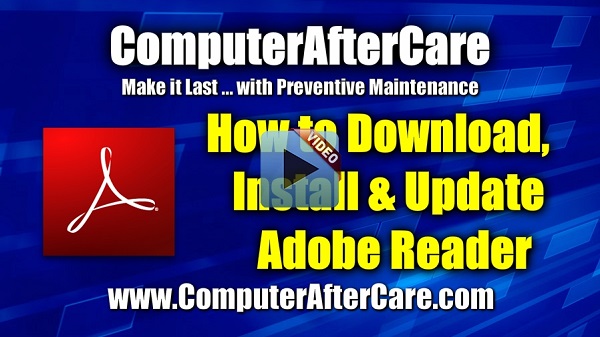 Download Adobe Reader at http://ninite.com
Download Adobe Reader at:
If you have a much older version of Adobe Reader installed, I suggest you use the Control Panel to manually remove the older version first before installing the new version. A computer restart may be required after removing the old version before installing the new version.
To download the full offline installers for recent versions of Adobe Reader, you can use their FTP site at the link above. For older versions, click "Up to higher level directory". This is the method I prefer, and once you have the file, you don't have to be connected to the internet to install it. You can also save it to a USB Drive for later installation on another computer.
When using the FTP site, click the latest version, then click the "en_US" link for the English version, then click the final link for download to your computer. After a brief delay, you'll be able to download Adobe Reader's installer to your Desktop, or whatever folder you prefer, just as long as you know where it goes. Note the file name so you know what to look for. For best results, create a folder named Adobe Reader and save it there. You can also use this same folder to store any other information about Adobe Reader you want save.
During installation, I suggest you "uncheck" the box for the optional "Free! Google Toolbar" if all you want is Adobe Reader. I don't like to have too many Toolbar Add-ons installed in my browser, because it may  slow down internet browsing, or worse, can even cause your browser to crash.
Occasionally, you may see an icon pop-up in lower-right Notification Area of your display prompting you to update Adobe Reader to the new version. If you don't trust this alert and don't want to click on it, then just open Adobe Reader and click on "Help" and then click "Check for Updates". Then follow the online instructions. Minor updates usually don't require you to go through the whole process all over again.
More Related Videos