Module 8 – Malware Prevention
Module 8 - Basic Malware Prevention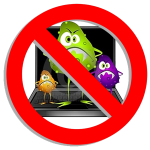 Surprisingly, many computer owners go through a denial process when it comes to light that their computer is infected with malware. They start by saying: It was just working perfectly, or it is practically brand new, or they recite all the security software they are running.  But as fast as people click through websites these days amidst the plethera of malicious websites out there, it is no news to me when most of my customer's computer problems are actually the result of a malware infection.
The problem is that for most computer owners, their knowledge of internet safety is sorely lacking or based on myths they learned from a friend or co-worker that is not really up to speed with internet security.
Knowing when to trust a website depends in part on who publishes the website, what information they want, and what you want from the site, as well as knowing how secure your computer is, but that takes a bit of work. The good news is that the knowledge and techniques to do this can become second nature if you take the time to apply it.
If you're not sure whether to trust a website, consider the questions below the video: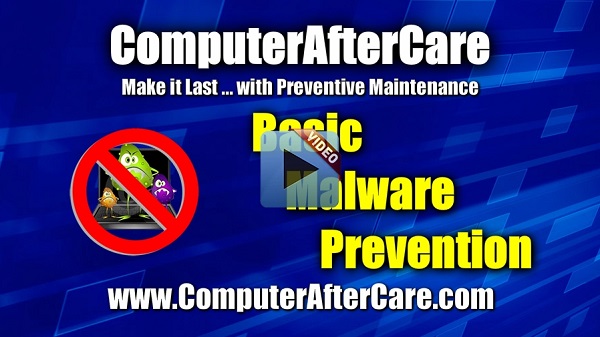 Are you Visiting a Secure Site?
If you are visiting the website with a secure connection, you will be able to identify the website through the site's certificate. A secure or encrypted website address will begin with HTTPS rather than HTTP, and you will see a lock icon

in the Address bar. Secure connections use certificates to identify the website and to encrypt your connection so that it will be more difficult for a hacker to view. You can also click the lock icon in the Address bar to see more information about the website. For more information on secure websites, see How to know if an online transaction is secure. When you click the lock icon in the Address bar, you can see the security report. Depending on the type of certificate the website has, you can see the website address or the company address that the certificate was issued to. Extended Validation (EV) certificates will turn the Address bar green, and will contain a confirmed name and address for the website owner. Non-EV certificates will display the website address or the domain of the site. If the security report only shows the website's address, be sure it is the address you wanted to visit. Phishing or fraudulent websites will often use similar website names to trick visitors into believing they are visiting trusted sites. Certificates are issued by companies called certification authorities. Windows contains a list of the most common certification authorities. If Windows doesn't recognize the issuer of the certificate, a warning message will appear. However, Windows can be configured to trust any certification authority, so you should not rely solely on receiving a warning message when a website is potentially fraudulent.
Is the Website Certified by an Internet Trust Organization?
An Internet trust organization is a company that verifies that a website has a privacy statement (a posted notification of how your personal information is used) and that the website gives you a choice of how they use your information. Websites approved by Internet trust organizations are able to display the privacy certification seals, usually somewhere on their home page or order forms. However, these seals don't guarantee that a website is trustworthy; it just means the website complies with the terms acceptable to the Internet trust organization. Additionally, some unscrupulous websites might display the trust logos fraudulently. If you are not sure whether a trust logo is legitimate, contact the trust organization to see if the website is registered with them. To learn more about these trust organizations, you can go to the TRUSTe website, the BBB Online website, or the WebTrust website.
Is the Website Owned by a Company or Organization that you Know Well?
For example, if you bought merchandise from a physical store and were happy with the experience, you might want to try the store's website as well. However, even if you trust the company, always read the website's privacy or terms of use statement. Sometimes a company's website is independent of its stores, and it might have different privacy terms. Look for terms you don't agree with, such as requirements to accept e‑mail offers or advertising from the website, or that your information is shared with the company's partners. If you are not comfortable with the terms or behaviors (for example, you do not want to be tracked or to see advertisements), do not use the site.
Does the Website Ask you for Personal Information?
If you are asked for personal information, such as credit card numbers or bank information, only provide it if there is a good reason to do so. Also, make sure there is a secure entry form for recording information. Look for a message stating that the information will be encrypted and check for the lock icon
in the Security Status bar in the Internet Explorer Address bar (do not enter confidential information if there is no lock icon on the Address bar). Also, try to find out what the website's policy is about storing information: Do they keep your credit card number on file? Do they have partners that they share information with? You should be confident that the site is using your information properly and in a secure manner before providing any information.
For Retail Websites, is There a Way to Contact Someone by Phone or Mail?
Do they have a phone number that you can call if you have a problem, or that you can use to place an order? Does the website list a street address? Is there a posted return policy with acceptable terms? If the site doesn't provide a phone number or physical address, try contacting the company by e‑mail to ask for that information.
If you Don't Recognize the Site, Do you Have other Information to Help you Decide?
If you are not familiar with a website or it does not have a privacy certification seal, that might not necessarily mean that you cannot trust it. Ask reliable friends or colleagues about the site. Search for references to the site on the Internet to see if a source, such as a magazine or company that you do trust, has referred to it. Read the website's privacy statements or other disclosures (but keep in mind that the site might not necessarily abide by them). A website might not be trustworthy if:
The site is referred to you through an e‑mail message from someone you don't know.
The site offers objectionable content, such as pornography or illegal materials.
The site makes offers that seem too good to be true, indicating a possible scam or the sale of illegal or pirated products.
You are lured to the site by a bait and switch scheme, in which the product or service is not what you were expecting.
You are asked for a credit card as a verification of identity or for personal information that does not seem necessary.
You are asked to provide a credit card number without proof that the transaction is secure.
The Usual Advice plus Some Internet Street Smarts
I would be remiss if I didn't at least spell out the basic virus and spyware prevention advice that provides the foundation for the more advanced techniques you will learn from this website. I couldn't list them all here because of the ever changing spyware "cat and mouse" games. The items below are not presented in any particular order.
Use a Firewall
Most malware and other potentially unwanted programs (PUPs) come deceptively bundled with other programs that you may have downloaded and installed on your PC. But some spyware can actually be placed on your computer remotely by hackers. Installing a 3rd party firewall or at least using the basic firewall that's built into Windows can provide some measure of defense against these hackers by alerting you to suspicious activity if a virus or worm attempts to connect to your computer.
Keep Your Software Updated
I know that Microsoft recommends that you keep Automatic Updates turned on, but I say NO! But only if you are disciplined to install the updates "manually" as soon as possible. I prefer to choose the option that automatically notifies you when an update is available and whether you want to install them or not. Some updates, particularly Service Packs may not install properly if you already have malware or virus infections. Also, Window Updates may also not install properly if your Antivirus and/or 3rd Party Firewall is enabled. Updating Windows with malware infections or enabled security software may even cause your computer to crash…imagine that! So my advice is to do your homework first about what updates are pending to be installed, and prepare your computer for the update so you don't break it when you are trying to make it run better. I set Windows Update to notify me when updates are available but not to automatically download and install them. I set aside time every few days to manually install Windows Updates.
Adjust Security and Privacy Settings for Internet Explorer
You can adjust your Internet Explorer Web browser's Security and Privacy settings to determine how much-or how little-information you want to accept from a Web site. Microsoft recommends that you set the security settings for the Internet zone to Medium or higher.
Install Top-Tier AntiVirus and AntiSpyware Programs
If money is an issue, you could install Microsoft Security Essentials to help protect your computer from spyware and other unwanted software. It's available as a no-cost download for Windows Vista and higher. Otherwise I strongly recommend ESET Nod32 or Smart Security, but they are paid products. I also recommend you download and install SUPERAntiSpyware or MalwareBytes-AntiMalware, both of which have free passive versions.
Exercise Internet Surfing Street Smarts
The best defense against spyware and other unwanted software is not to download it in the first place….Prevention! Here is a partial list of some more tips:
Keep Windows updated. Microsoft periodically releases critical security updates that can help protect your computer by patching security holes
Use multiple layers of top-tier security products (antivirus, antispyware, firewall, spam filter) and only one of each type
Ensure your Antivirus, AntiSpyware security products are updated with the latest definitions and don't let them expire
Use Link Scanners such as McAfee's Free SiteAdvisor to get a clue if the site you are about to click on is known to be malicious or not. Don't click with impunity!
Use a Standard User Account (Vista, Windows 7) or a Limited Account (XP) instead of an Administrator account when surfing the internet
Ensure User Account Control (UAC) is turned on. When changes to your computer are being attempted that require Administrator permission, UAC notifies you and gives you the opportunity to approve the change. As such, UAC can help keep viruses from making unwanted changes
Use complicated passwords for your online accounts with combinations of both letters and numbers (maybe even symbols if allowed)
Use an internet browser other than Internet Explorer for most of your surfing such as Mozilla Firefox or Google Chrome.
Periodically clear your Internet cache and browsing history
Be aware of your internet browser's privacy settings
Only download programs from Web sites you trust. If you're not sure whether to trust a program you are considering downloading, Do some homework and Google the name of the program, title or file name to see if anyone else has reported if it contains malware or not
Read all security warnings, EULA license agreements, and privacy statements provided with any software you download.
Scan every file you download for viruses and spyware before opening it
Beware of automatic downloads such as active-x controls, add-on and plug-ins, do your homework!
Use 2 email addresses, keep one very private, and the other for junk mail
Don't open email messages from unfamiliar senders, or email attachments that you don't recognize. Even if an email attachment is from someone you know, exercise caution
Be sure you are on a secure site (https) when providing financial information. For sites you know the url to, type in the url manually, rather than clicking on links someone you don't know provides via email or a website. Always assume that whenever you click on someone else's link that takes you to a website that asks for a password, that they are either an idiot or a thief. And even if they are an idiot, they will probably give your password to a thief.
Periodically keep up with the security news provided by your Bank's website, Facebook, Twitter, and other Social Media sites you may use
Beware of Gambling, Adult, Freeware, Pirated Software, Free Music Downloading, Video and mp3 Converters, Codecs, Driver Programs, Registry Cleaners, or anything that is promoted through Pop-Ups. If you do download anything, be sure you understand all of the piggy-backed software that may be packaged with the primary program you are downloading
Beware of anything currently popular in the news, or about celebrities, music bands, etc. Anything popular is a very juicy medium to promote viruses
In my opinion, I would not believe about 99% of the Radio and TV Ads promoting the free online diagnostic scans that also promise to speed-up your computer. Do your homework first. They are almost all borderline scams. And of the few reputable one I see, they are not my top recommendations either because they are not user friendly and tend to slow your computer down. The same goes for most mainstream antivirus programs that may have come pre-installed on your computer as a trial as well as being sold in all the computer stores
Never click "Agree", "OK" or "Cancel" to close a Window you suspect is part of a malicious program. Instead, click the red "x" in the corner of the Window (make sure the cursor is an "arrow" and not the "hand") or press (Alt + F4) on your keyboard to close a Window
If a drive-by download starts, use Task Manager (Ctrl + Alt + Del) or (Ctrl + Shift + Esc) to end Internet Explorer or whichever browser you are using
Don't stop learning, and share what you know with all computer users in your household