Internet Explorer Browser Settings
Module 8 - Internet Explorer: Manage Add-Ons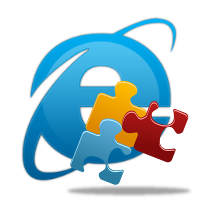 Add-ons are apps that Internet Explorer uses to interact with web content like videos and games. Some common add-ons are Adobe Flash, Quicktime, and Silverlight. Several add-ons come pre-installed in Internet Explorer, but many have to be downloaded from the Internet.
Add-ons usually require that you give your permission before they're installed on your computer. However, some might be installed without your knowledge. This can happen if the add-on was part of another program that you installed. Some add-ons increase the amount of pop-ups you receive, track your online browsing and even install viruses on your computer.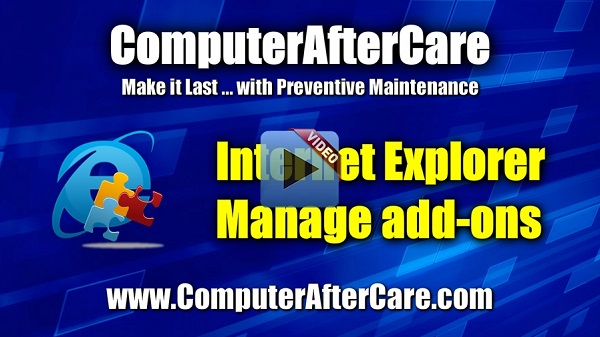 For best results, view the VIDEO above in "Full Screen".
Screenshots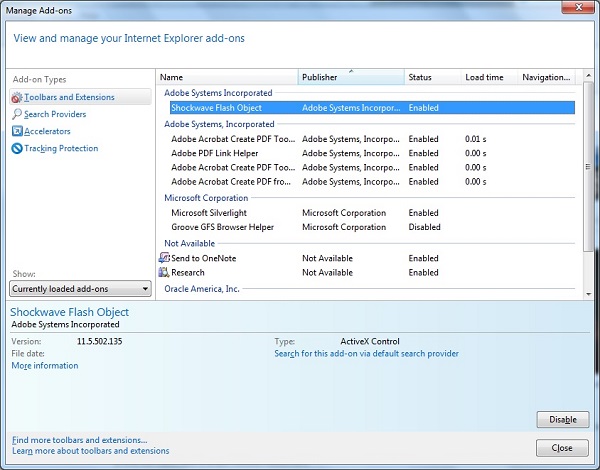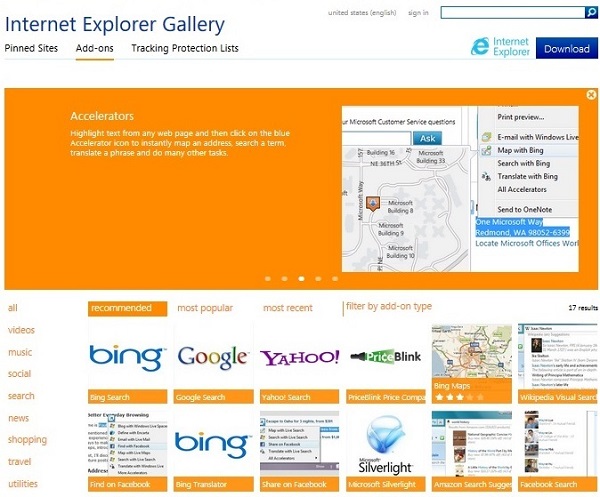 To Display Add-ons
Later versions of Internet Explorer do not display the Menu bar by default. To display the Menu bar temporarily, open Internet Explorer and press the "Alt" key. To display a complete list of the IE add-ons on your computer, Open Internet Explorer and Click:
"Tools" > "Manage Add-ons"  > "Show All Add-ons"
To display only those add-ons that were needed for the current webpage or a recently viewed webpage, click Currently loaded add-ons.

To display pre-approved add-ons, Click Run without permission. Pre-approved add-ons can come from Microsoft, your computer manufacturer, or your Internet Service Provider (if you are using a private branded version of Internet Explorer), or your network administrator. All pre-approved add-ons are checked and digitally signed.

To see other choices you have, like which columns to show or how to sort each type of add-on, right-click an add-on. You can also find more add-ons or learn more about each type using the links in the lower-left corner of the Window or by visiting http://www.iegallery.com/Addons
Use the update tool for an add-on to search online for updated or more stable versions of the installed add-on.
Removing Add-ons
Before you consider actually removing an Add-on, you can temporarily disable "all" Add-ons in Internet Explorer when necessary for troubleshooting by clicking:
"Start Menu" > "All Programs" > "Accessories" > "System Tools" > "Internet Explorer (No Add-Ons)"
Add-ons are typically fine to use, but sometimes they force Internet Explorer to shut down unexpectedly. This can happen if the add-on was created for an earlier version of Internet Explorer or has a programming error. If an add-on causes repeated problems, disable it by using Add-on Manager.
But before you turn off a browser add-on, keep in mind that some webpages, or Internet Explorer itself, might not display properly if an add-on is turned off. I recommend that you only turn off an add-on if it repeatedly causes Internet Explorer to close.
You can only delete ActiveX controls that you've downloaded and installed. You can't delete ActiveX controls that were pre-installed or Add-ons of any kind, but you can turn them off.
If an add-on can't be removed in the Manage Add-ons dialog box, you might be able to uninstall it in Programs and Features.
Browse Uninterrupted with Add-on Performance Advisor
Add-on Performance Advisor is designed to ensure that Internet Explorer 9 starts fast and stays fast by helping you control the Add-ons you install.
Add-on Performance Advisor works by identifying Add-ons that may be slowing down your browser and—right from the notification area—giving you the information you need to disable the add-on or fix the problem.
Load times for each add-on are shown so you can see how each one impacts your browsing experience.
You're able to make an informed decision to use the Add-ons you find valuable and disable those that are less useful or too slow. It all adds up to browsing that's faster and more efficient for you.
Manage Add-ons for Internet Explorer 10
Internet Explorer 10 is designed to provide an add-on free experience, and will play HTML5 and many Adobe Flash Player videos without needing to install a separate add-on. Add-ons and toolbars will only work in Internet Explorer for the desktop.
To view a page that requires Add-ons in Internet Explorer, swipe down or right-click to bring up the Address bar, tap or click the Page tools button, and then tap or click View on the desktop.
You can view, enable, and disable the list of add-ons that can be used by Internet Explorer for the desktop. Add-ons you can manage include browser helper objects, ActiveX controls, toolbar extensions, explorer bars, browser extensions, search providers, Accelerators, and Tracking Protection settings.
More Internet Explorer Videos
Back to Internet Explorer Browser Settings