Internet Explorer Browser Settings
Module 8 - Internet Explorer SmartScreen Filter
How to Use Internet Explorer SmartScreen Filter
The Internet Explorer SmartScreen Filter is a feature in Internet Explorer 8,  9, 10 & 11 that helps to protect you from online threats such as phishing websites and websites that distribute malware.
When surfing the internet, the SmartScreen Filter runs in the background and (with your consent) sends the web addresses of the sites you're visiting to the Microsoft‌ SmartScreen service to be compared against lists of known phishing and malware sites.
If the SmartScreen Filter discovers that a website you're visiting is on the list, Internet Explorer will display a blocking webpage and the Address bar will appear in red.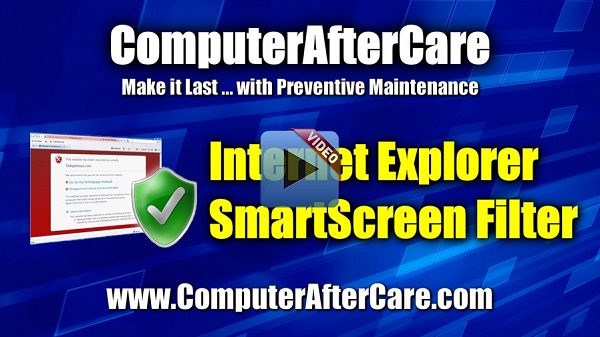 SmartScreen Filter Screenshots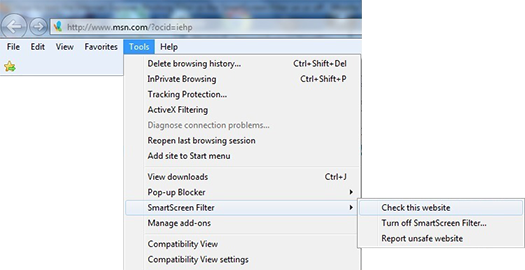 More About the SmartScreen Filter
Internet Explorer is designed to help protect you from evolving web and social engineering threats. Whether it's a link in email that appears to be from your bank, fake notifications from social networking sites, search results for popular content, or malicious advertisements—you name it, someone's trying it. With SmartScreen Filter, you can browse with more confidence knowing you have better protection if you're targeted by one of these types of attacks.
SmartScreen Filter helps combat these threats with a set of sophisticated tools:
Anti-phishing protection—to screen threats from imposter websites seeking to acquire personal information such as user names, passwords, and billing data.
Application Reputation—to remove all unnecessary warnings for well-known files, and show severe warnings for high-risk downloads.
Anti-malware protection—to help prevent potentially harmful software from infiltrating your computer.
If a malicious website is detected, Internet Explorer blocks the entire site, when appropriate. It also can do a "surgical block" of malware or phishing hosted on legitimate websites, blocking malicious pages without affecting the rest of the site.
Smartscreen Filter also works with Download Manager to help protect you from malicious downloads. Potentially risky downloads are immediately blocked. Download Manager then clearly identifies higher risk programs so that you can make an informed decision to delete, run, or save the download.
I recommend that you turn on SmartScreen Filter. You can turn it on or off at any time. You can also help improve the web for everyone by reporting suspected malicious sites.
Microsoft Automated Troubleshooting Services: Diagnose and fix Windows security problems automatically
More Internet Explorer Videos
Back to Internet Explorer Browser Settings