Quarterly Computer Preventive Maintenance
Module 4 - Quarterly Computer Preventive Maintenance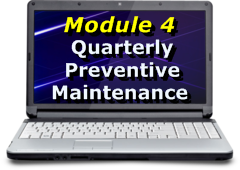 Perform full Disk Cleanup, Scan Hard Drive for bad sectors and Defragment Hard Drive.
Check Windows Logs for Application and System errors. Check internet Speed.
Check intake and exhaust vents for excessive dust or blockage.
Table of Contents
Check Hard Drive for Bad Sectors
You can solve some computer problems by checking a drive or drives for errors. For example, you can check your computer's primary hard disk to fix some performance issues, or you can check an external hard drive if it's not working properly.
NOTE: please make sure you have a current backup of your files before you run a check disk command. (Also, do this immediately if you see a message stating that your Windows "volume is dirty").
Check Hard Drive for Bad Sectors
Run Disk Cleanup
If you want to reduce the number of unnecessary files on your hard disk to free up disk space and help your computer run faster, use Disk Cleanup. It removes temporary files, empties the Recycle Bin, and removes a variety of system files and other items that you no longer need.
Defragment the Hard Drive
The program Disk Defragmenter takes all of the scattered bits of program data and groups them together in the front of the drive.
Defragmenting a hard drive can be a very tedious and time-consuming process, but the performance gains are worth the time spent. Windows will continue to function with a badly fragmented hard drive, just slower. The first defragmentation, if it has not been run as a matter of habit (or ever), will take a considerable amount of time (from 15 minutes up to 2-3 hours). Allow it to run its course. It will appear to hang at 10% for a long time – this is normal. After the 10% hurdle is overcome, the remaining 90% passes relatively quickly.
Clean Exterior of Computer
Keeping your computer clean contributes to keeping it cool, mostly because of keeping your air intake and exhaust vents clear. Also, cleaning your computer gives you a chance to visually notice other problems that you might have otherwise missed. So regular cleaning and early detection of potential problems can save you costly maintenance fees down the road.
Cleaning LCD Displays
To get rid of never- or seldom-used programs, launch Add/Remove Programs from the Control Panel and examine each item. Don't meddle with items that are completely unfamiliar; they may be required by the system. But if you find a standalone application that you no longer use, get rid of it! Some programs come with their own uninstall program which may do a better job of removing the program. Check the program folder for an uninstall file and use that one instead of the Windows uninstall. If an uninstall file is not available, then use the Windows Add/Remove Programs process.
Change your passwords. (Yes, I know this is a pain, I hear you groaning. But it's really a good idea to do this).