Monthly Computer Preventive Maintenance
Module 3 - Program Updates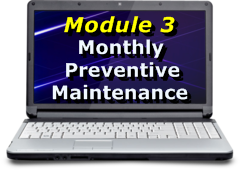 Install misc program updates such as Adobe Reader, Adobe Flash Player, Adobe Shockwave Player and Java.
Putting off updating these programs, some which may also include internet browser Add-ons will make your computer vulnerable to malicious code attacks.
Table of Contents
Alternative Methods
Update Adobe Reader
Adobe Reader is free software that lets you open, view, search, digitally sign, verify, and print PDF files. Adobe Reader is widely used as a way to present information with a fixed layout similar to a paper publication.
Since Adobe Reader includes support for JavaScript, it is vulnerable to malicious code attacks, which is why you need to ensure you are always running the latest version.
Update Adobe Flash Player
Basically, Adobe Flash Player is a free internet browser add-on for viewing rich content on the internet such as animations and videos.
Update Adobe Shockwave Player
Adobe Shockwave Player is a free multimedia platform used to add animation and interactivity to web pages. It allows Adobe Director applications to be published on the Internet and viewed in a web browser on any computer which has the Shockwave plug-in installed.
Update Java
Java is a programming language and computing platform that powers state-of-the-art programs including utilities, games, and business applications. Java runs on more than 850 million personal computers worldwide, and on billions of devices worldwide, including mobile and TV devices.
There are lots of applications and websites that won't work unless you have Java installed, and more are created every day. Java is usually fast, secure, and reliable if kept updates.
Update Microsoft Silverlight
Silverlight is a powerful development tool for creating engaging, interactive user experiences for Web and mobile applications. Silverlight is a free plug-in, powered by the .NET framework and compatible with multiple browsers, devices and operating systems, bringing a new level of interactivity wherever the Web works.
Secunia PSI
Patching insecure programs helps safeguard your data and PC against cyber-criminals. Secunia PSI is a security scanner which identifies programs that are insecure and need updates. It even automates the updating of many of these programs, making it a lot easier to maintain a secure PC.
Start Up Programs
Instant messaging programs, media players and many other programs weasel their way into automatically starting with Windows. They just slow down your boot time and guzzle system resources.  Whether you need them or not, they're using memory and CPU cycles. Windows 98, Me, and XP users can disable unnecessary background programs using the Startup tab of the MSCONFIG program, which you can launch from the Start menu's Run dialog. Windows 2000 users will need a third-party tool, such as StartUp Inspector.
Disabling anything listed in MSCONFIG should be safe, but keep in mind that if you disable the system tray, you'll lose the clock and volume control in the system tray. You'll see a number of programs listed. Some names are easy to figure out, but the majority are difficult to decipher. You can find a list of entries and explanations here:
http://www.sysinfo.org/startuplist.php
Also, one or more instances of LoadPowerProfile or TweakUI do no harm, because they don't remain in memory.
A simpler method of cleaning out your start up programs is a free utility –  StartUp Inspector. This handy tool lists all the programs which start when you boot your computer and gives a description of the program indicating whether the program is necessary or not needed.  StartUp Inspector will display more running programs than MSCONFIG and will identify which programs are necessary in startup and which ones are not needed.
For more detailed information on how start up programs affect your computer, visit PacMan.