Module 8 – Malware Prevention
Module 8 - Pop-Up Blocker and Misc Security Tests

Pop-up Blocker is a feature in Internet Explorer that lets you limit or block most pop-ups. You can choose the level of blocking you prefer, from blocking all pop-up windows to allowing the pop-ups that you want to see. When Pop-up Blocker is turned on, the Information bar displays a message saying "Pop-up blocked. To see this pop-up or additional options click here."
Pop-up Blocker is turned on in Internet Explorer by default.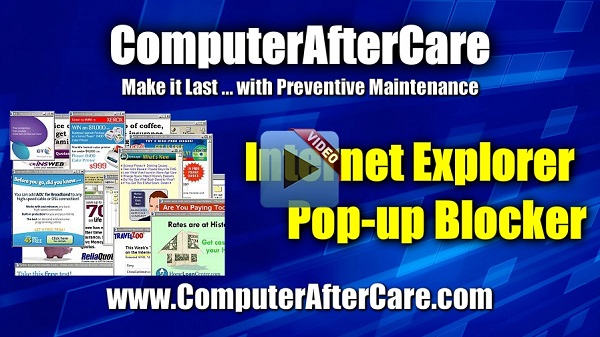 For best results, view the VIDEO above in "Full Screen".
Misc Security Tests
Free tests to check your web browsers' popup blocking ability. WiFi security, Java security and other miscellaneous tests.
PopupTest: PopupTest.com provides a simple and independent source for popup window testing. Whether you are developing a popup killer software or you are thinking about purchasing one, you can use our sample popups to test the effectiveness of the application.
Popup Blocker Test popupcheck.com: is the most complete way for you to test your popup blocking software. Your popup blocker will be given a series of tests that range from your standard popup to very complex popups that will slip by most popular ad blockers.
PopupDummy! Popup Test Page: 9 different popups will be tested which demonstrate adware, spyware, and activex installers.
EndPointScan – Online scanner for portable device usage!: Carries out granular checks across all types of ports USB, Firewire, Bluetooth, Infrared, PCMIA and Wi-Fi on all machines. This utility provides complete and thorough information about all portable devices and can scan multiple computers simultaneously. EndPointScan is fully compatible with existing network management or administrative tools such as Active Directory and it will also work on Vista systems. ActiveX based. Requires Internet Explorer.
Java Tester – What Version of Java Are You Running?: Multiple copies of Java can be installed on a single computer, and, if you have more than one web browser, each one can use a different version of Java, or none at all, so be sure to test them all. This site provides nine ways to determine the version of Java a web browser is using.
F-Secure Health Check: Checks whether you have an Anti-Virus, Firewall and Anti-Spyware software installed on your computer, checks whether you have known vulnerabilities in your applications, checks whether you have applications that are no longer supported by the vendor and helps you fix the vulnerabilities found.
Password Checker: Using Strong Passwords | Microsoft Security: Your online accounts, computer files, and personal information are more secure when you use strong passwords to help protect them. Check your password — is it strong?